Do you have a full upper or lower arch of missing teeth? Are your missing teeth impacting your bite? Patients can receive restorative dental care with dentures and partials in our Lansdale, PA dental office. Dentures may be partial or full. Partial dentures replace rows of missing teeth, while full dentures can restore one or more arches of teeth. At Brookwood Dental Associates, our team of dental professionals works with patients one-on-one to find the right treatment to meet their needs and goals.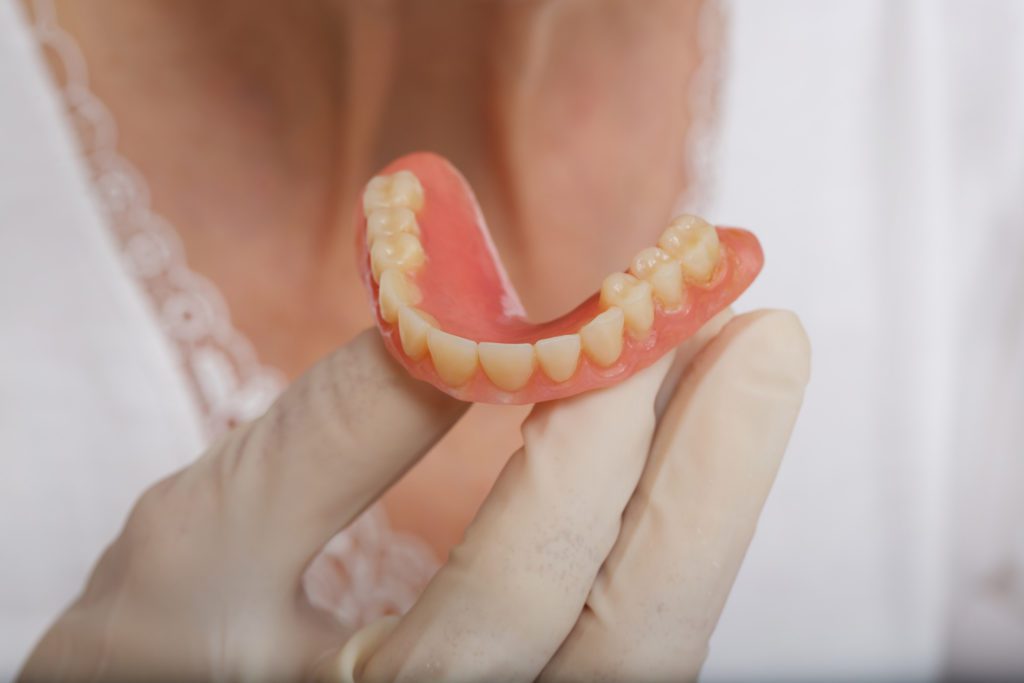 Removable vs. Implant-Supported Dentures
You can get multiple types of dentures to replace your missing teeth. Learn more about the options we offer at Brookwood Dental Associates.
Removable Dentures
Removable dentures are likely what you think of when someone says the word. Traditionally, dentures are removable. They're made up of a resin and metal base that supports false teeth and rely on suction to stay in your mouth. Usually, an adhesive is needed to ensure that the dentures stay in if suction alone isn't enough. You get removable dentures faster than implant-supported ones, and are also cheaper.
However, removable dentures have many little downsides. While they don't cost as much upfront, mystery costs come into play down the line. Your jawbone continues to change and deteriorate with removable dentures. Because of this, you'll have to pay to get them readjusted or replaced, possibly multiple times throughout your lifetime. Ill-fitting dentures are harder to use and can cause sores and pain in your mouth.
You also have restrictions on what you can eat. Removable dentures only give you back around 30-40% of your bite function. There are certain foods that your dentures aren't going to be able to handle. You risk them falling out of your mouth when you're eating or speaking in public because they rely on that suction to your gums to stay in your mouth. If this seal isn't tight, they're going to shift and move in your mouth.
You'll only want to wear removable dentures for around eight or so hours each day. If you leave them in too long, they start to irritate the gum tissue and cause sores. When you take them out, you must take care of them properly. Dentures require certain cleaners and utensils to ensure the adhesive is cleaned off properly. Sometimes you'll have to soak them to ensure that you're getting rid of bacteria and debris.
Implant-Supported Dentures
Implant-supported dentures are a restoration that stays put in your mouth. As few as four dental implants support a full arch of missing teeth. The denture latches onto the dental implants to ensure stability and can take on everyday wear and tear in your mouth. Getting implant-supported dentures is a longer process than removable ones because of the surgical component. We place implant posts into the jawbone, requiring around three to six months to heal before we can move forward.
However, implant-supported dentures come with a ton of benefits. Though they're more expensive upfront, you won't incur surprise costs down the line. The implants stop jawbone deterioration, so your jaw won't continue to wear down and change throughout your lifetime. You don't have to worry about relining or replacing your dentures because they no longer fit in your mouth. Their fit will be consistent.
Implants come with many perks that aren't available with other restorations. Since they replace the tooth root, they give you more stability than other solutions, even when you don't have implant posts for every single missing tooth. You can rely on them and don't have to give up foods in your diet because implant-supported dentures should be able to process just about anything. They won't slip around in your mouth, either.
Implant-supported dentures are always in your mouth, and you never have to remove them. They don't require any adhesive or special maintenance either. You basically just have to brush your teeth as you would normally and continue to come into the dentist office every six months.
Treatment with Dentures
Patients who want removable dentures may choose a full denture secured with adhesive or a partial denture that is attached by crown-capped teeth. We will take impressions of any remaining teeth to create these dentures. To prepare for treatment using implant-supported dentures, our team takes detailed x-rays and charts.
This allows them to find the best areas to place the dental implants. Once they ensure that patients are in otherwise good oral health, they will surgically place the implants and the custom-made denture when they are secure.
Patients can also receive a tooth extraction the same day as their restoration with All-On-Four treatment. For this treatment, we place a series of dental implants throughout the jaw. Once the implants have healed, we attach the permanent denture.
We offer additional restorative dentistry services for our patients in Lansdale, Pennsylvania.
Dentures and Partials: FAQs
What type of dentures look the most natural?
Dentures made of porcelain materials look like natural teeth. In the case of partial dentures, the porcelain materials may be color-matched to remaining natural teeth. The porcelain will match your desired tooth shade if you receive complete dentures. Additionally, dentures are shaped like natural teeth for the most aesthetically pleasing look.
What is a better option than dentures?
Dental implants can secure dentures to ensure that they feel and function like natural teeth. Implants anchor dentures just like tooth roots, allowing patients to speak and eat more naturally. Implant-secured dentures also last longer than traditional removable options.
What dentures don't need adhesive?
Implant-secured dentures do not need adhesive to stay in place. Dental implants integrate with the jaw bone underneath the gums to create a stable foundation for dentures.
Do dentures hurt?
Implant-supported dentures should not hurt. However, many patients with removable dentures can experience irritated and sore gum tissue. Traditional removable dentures lay on top of the gums, and often create sores due to the friction of speaking and eating.
Can dentures get cavities?
Dentures themselves cannot get cavities. However, you can experience cavities in the remaining natural teeth if harmful bacteria build on or around your dentures. For this reason, it is important to clean your dentures, gums, and remaining teeth twice a day. We can also examine your dentures at routine appointments.
What do you do if all of your teeth are decayed?
We will recommend a dental extraction if all of your teeth cannot be saved with root canal treatment. Then, we can provide you with dentures. Dentures will restore the comfort and appearance of your smile.
Schedule a Dental Appointment
Contact our office for denture treatment today at 267-651-7247. You may also request a dental consultation with us online. Please let us know if you have any further questions about your restorative dental options. We will be happy to help.