Do you have a full upper or lower arch of missing teeth? Are your missing teeth impacting your bite? Patients can receive restorative dental care with dentures and partials in our Lansdale, PA dental office. Dentures may be partial or full. Partial dentures replace rows of missing teeth, while full dentures can restore one or more arches of teeth. At Brookwood Dental Associates, our team of dental professionals works with patients one-on-one to find the right treatment to meet their needs and goals.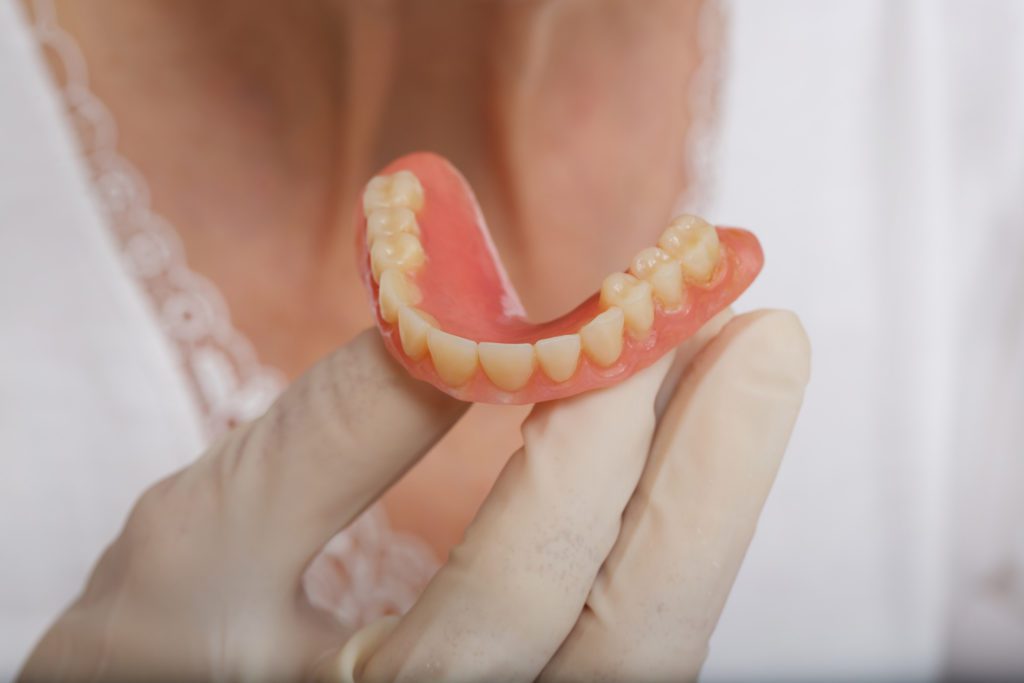 Removable vs. Implant-Supported Dentures
Dentures are traditionally removable. Because of this, patients need to properly care for and clean their dentures. Patients need to clean their dentures once a day by soaking them in solution when not in use. Because removable dentures lie on top of the gums, patients can develop sores or gum irritation.
Implant-secured dentures may be full or partial and are supported by multiple dental implants. After the implants are surgically inserted into the jaw bone and have fused with the bone tissue, the denture prosthetic is attached. Our office can also provide patients with an All-On-Four treatment. For this treatment, we can utilize as few as four implants to secure an arch of replacement teeth.
Treatment with Dentures
Patients who want removable dentures may choose a full denture secured with adhesive or a partial denture that is attached by crown-capped teeth. We will take impressions of any remaining teeth to create these dentures. To prepare for treatment using implant-supported dentures, our team takes detailed x-rays and charts. This allows them to find the best areas to place the dental implants. Once they ensure that patients are in otherwise good oral health, they will surgically place the implants and place the custom-made denture when the implants are secure.
Patients can also receive a tooth extraction the same day as their restoration with All-On-Four treatment. For this treatment, we place a series of dental implants throughout the jaw. Once the implants have healed, we attach the permanent denture.
We offer additional restorative dentistry services for our patients in Lansdale, Pennsylvania.
Schedule a Dental Appointment
Contact our office for denture treatment today at 267-651-7247. You may also request a dental consultation with us online. Please let us know if you have any further questions about your restorative dental options. We will be happy to help.