If you have one or multiple missing permanent teeth, it is important to replace them as soon as possible. Missing teeth not only impact the look of the smile but affect the health of the remaining teeth and gums. Particularly if missing teeth are caused by tooth decay or gum disease, patients should contact a dental professional for treatment. As bacteria spread and infect the teeth and gums, more permanent teeth may be lost. Poor oral health can also contribute to overall health concerns and impact your quality of life. Replacing missing teeth in a timely manner is important for the stability of your smile and long term dental health and wellness. Our dental care team in Lansdale is experienced in implant dentistry and can help you restore your smile with personalized care.
Patients can restore missing teeth with dental implants in Lansdale, PA. The dentists at Brookwood Dental Associates custom-tailor implants as well as the dental crowns, dental bridges, or dentures they secure. They take each patient's health history, current dental problems, and restorative goals into account in order to create high-quality, permanent replacements for missing teeth. Dental implants are a restorative dentistry procedure that Brookwood Dental Associates offers to patients in Lansdale, PA.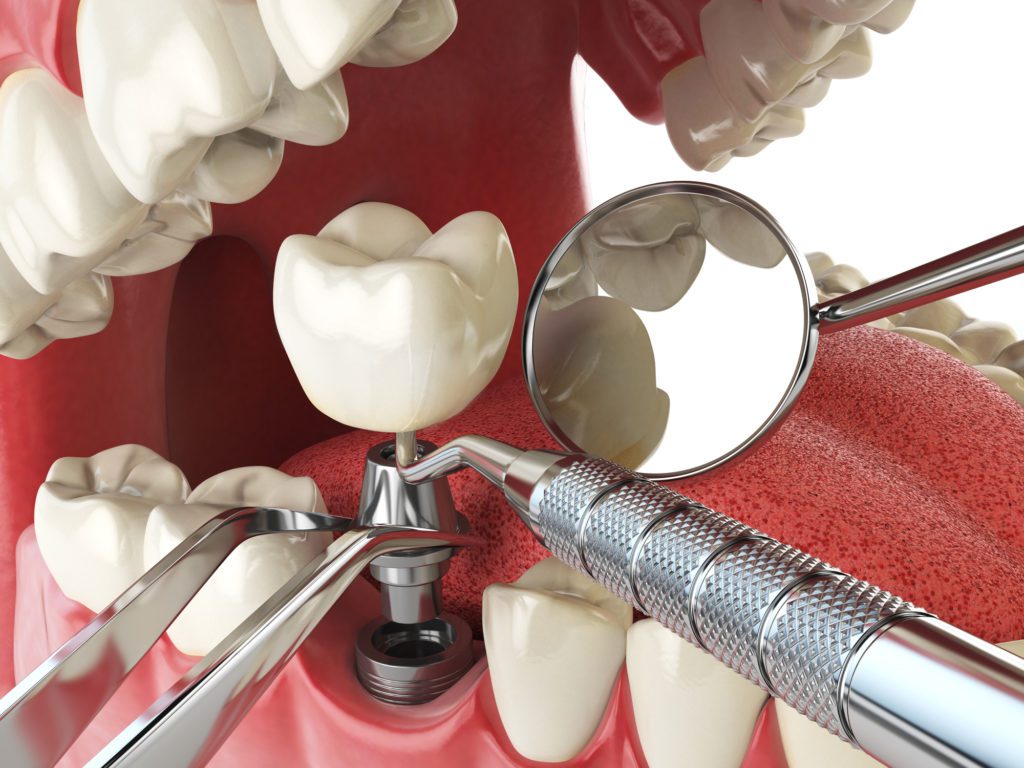 Dental Implant Treatment
Before dental implant treatment, our team ensures that patients are in good oral health. They make sure to treat any problems like decay or gum disease. Our team can also perform bone grafting for patients who do not have enough bone tissue to support dental implants. These treatments prepare patients for implant treatment and a quick healing process.
After ensuring that any remaining teeth and gums are in good health, our team takes detailed x-rays and impressions. These are used to determine where to place the implants and to create the restoration secured by the implants. Once the titanium posts are surgically implanted into the jaw bone, they will require a healing period of 3 to 6 months. The implants heal during a process called osseointegration, during which the implant post fuses with the jaw bone. This process ensures that the implant is stable. Then, once the implant or implants are healed, we will cap them off with a custom-made dental crown, bridge, or denture.
Dental Implant FAQs
Discover more about dental implants and their advantages to patients with missing teeth here:
What are the benefits of dental implants?
Dental implants:
Look and feel like natural teeth
Can secure a bridge or denture
Provide a permanent restoration
Do not slip around the mouth
Compared to removable dental restorations, dental implants provide a stronger and more stable end result.
Can dental implants fail?
Yes, although dental implants have a success rate of about 95%, there are several ways they can fail to heal in the mouth. Nicotine restricts blood flow and can slow the implant healing process. Because of this, we ask that patients refrain from smoking or using tobacco products during their implant treatment.
Furthermore, if patients develop gum disease or decay, their implants can destabilize. Patients should remember to care for their implants and remaining teeth to keep infection at bay. Our dental team will also ensure that patients are in good oral health before their implant treatment even begins.
Schedule a Dental Appointment
Do you want to replace your missing teeth with strong dental implants? Call 267-651-7247 or request a dental consultation on our website. Let us know if you have any more questions and we will be happy to help you.