Orthodontic services can straighten teeth, address bite problems, and provide a more comfortable smile. Orthodontics will improve the health, long-term stability, and appearance of your smile. Braces and clear aligners will reposition your teeth, often widening the bite to allow the teeth to make proper contact.
If you have teeth that protrude, are crooked, or have a bite that is uneven, orthodontic treatment may be the solution for your needs. Orthodontics is not just for kids- adults can often benefit greatly from orthodontic services and support long-term dental health.
An experienced orthodontist, Dr. Anthony Albert provides traditional metal braces and orthodontic appliances as well as Invisalign clear aligners. He can work with children and adults to improve smiles with appropriate orthodontic treatment. Dr. Albert offers orthodontic screening for children, early intervention, and braces for all ages.
Routine screening for bite problems is a part of your preventive dental care in our office, but if you have concerns about the comfort of your bite or the appearance of your teeth, consider a consultation to discuss orthodontic treatment options.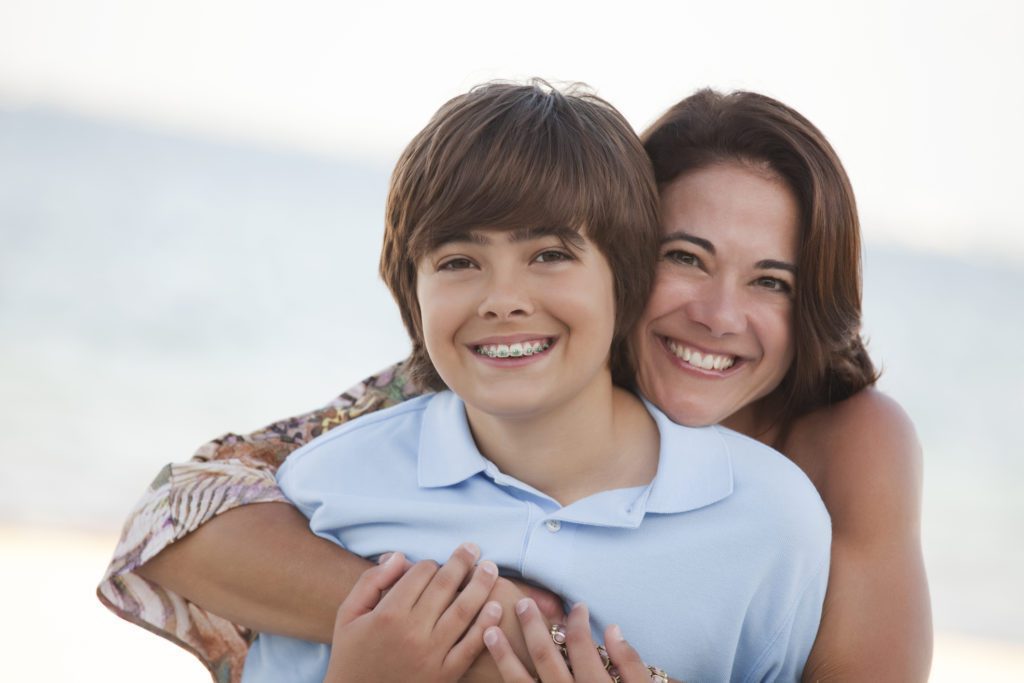 Orthodontics for Children
Orthodontic treatment for children and teens is designed to facilitate better oral development and to address underlying bite problems or jaw structure concerns. Dr. Albert can offer early screenings for children if a dental problem or potential bite issue has been identified by one of our dentists during routine dental care. In some cases, phase one orthodontics may be recommended for a young patient with significant concerns about the development of their bite and future tooth position.
We offer several types of orthodontic treatment options, and Dr. Albert will make the appropriate recommendation for the needs of your child or teen. Although the aesthetics of the smile is an important factor in the treatment plan, our goal is to achieve a smile that is healthy, stable, and comfortable for a lifetime.
What is phase one orthodontics?
Phase one, or early intervention, is orthodontic treatment for a developing child. Phase one orthodontics is designed to address how the jaw and palate are developing and where the permanent teeth will erupt. Phase one orthodontic treatment typically begins between the ages of 6 and 10. This is when the primary or baby teeth are lost, and permanent teeth are erupting. Common reasons for recommending phase one orthodontics can include:
Thumb sucking throughout childhood that is opening the bite
Protrusion of front teeth
Crowding of teeth
Underbite
When correcting these dental health concerns during the development stage, we can often avoid more complex problems later on and set the stage for permanent teeth to be positioned correctly. Phase one orthodontics may include the use of braces, retainers, and oral appliances that will support treatment goals.
Braces for Adults
Dr. Albert can work with patients of any age who have orthodontic-related concerns. We offer braces for adults, including traditional metal braces and clear aligners. We believe that it is never too late to straighten your teeth or to address a bite problem that is also impacting other aspects of your dental health. Straighter teeth are healthier teeth, and they will make it easier to maintain your overall oral health.
Whenever possible, Dr. Albert will offer Invisalign clear aligners to meet your orthodontic needs as an adult. Clear aligners are discreet and make treatment more convenient in many ways. Common reasons that adults may need or seek orthodontic treatment can include:
Crooked teeth
Bite problems and TMJ disorders
Orthodontic relapse
The Importance of Retainers
Once your braces are off or you have completed treatment with clear aligners, the ongoing use of a retainer is important. A retainer should be worn as directed for the first few months post-treatment and then nightly for the rest of your life! Neglecting to use a retainer will significantly increase your risk of orthodontic relapse, where the teeth slowly return to their pre-treatment position.
Why Choose Dr. Albert?
Dr. Anthony Albert is an orthodontist in our Lansdale dental practice. As an orthodontist, Dr. Albert has advanced post-graduate training in treating jaw alignment and tooth position. He has an in-depth understanding of facial orthopedics. He works with children and adult patients to address bite problems, crooked teeth, and other dentofacial concerns affecting the bite's function.
Orthodontics FAQs
Is orthodontics the same as braces?
Braces can be a part of orthodontics, but orthodontics also includes options like clear aligners, retainers, and appliances for pediatric patients. Orthodontics helps straighten teeth and ensure the proper growth and development of the teeth and jaw.
Is Invisalign better than braces?
Invisalign may be better for teens and adults with mild to moderate orthodontic concerns. However, we may recommend braces for pediatric patients and patients with moderate to severe orthodontic problems. We will recommend one option over another based on your specific bite pattern, orthodontic needs, and age.
What age is too late for braces?
There's no age limit for braces. You're a good candidate for braces if you have orthodontic problems like an overbite, underbite, crossbite, tooth gaps, or misalignments that benefit from braces. You can get a straighter smile at any age.
What are orthodontic options for adults?
Adults can receive metal braces, ceramic braces, Invisalign, and other types of clear aligners. Clear aligners offer more discreet care, but we may recommend more traditional braces if you need more extensive orthodontic care.
How do you treat soreness from braces?
Your teeth may feel sore as they begin to shift during braces treatment. You can take acetaminophen at home and apply an ice pack to your cheek to reduce inflammation. After reducing inflammation with the ice pack, a heating pad will help soothe pain. Soft foods can also minimize tooth pain because hard and crunchy foods require more bite pressure. Soreness will fade after several days as your teeth get accustomed to new movements.
What do I do if I have a loose braces wire?
If you have orthodontic wax, create a small wax ball and place it at the end of the wire. Wax will prevent the wire from poking and irritating your gums. You can also try to bend the wire back in place using a small, clean object like a cotton swab. If you cannot fix the wire, make an appointment with us so we can fix it.
Dr. Albert has years of experience treating patients and provides comprehensive orthodontic treatment for the health and comfort of your smile. Contact our Lansdale dentist office to schedule an orthodontic consultation with Dr. Albert and explore your treatment needs and options.