Do you have a single, stained tooth? Are your slightly crooked teeth affecting the aesthetics of your overall smile? Porcelain veneers may be the right cosmetic dentistry treatment for you. Veneers are shells of porcelain ceramic that are bonded to the front of the teeth.
With dental veneers, patients can address tooth stains, chips and cracks in the tooth enamel, gaps between teeth, and slight tooth misalignment. The professional dental team at Brookwood Dental Associates provides porcelain veneers to patients in Lansdale, PA. Our dentists collaborate with patients to discover the right cosmetic treatments to meet their oral health needs and aesthetic goals.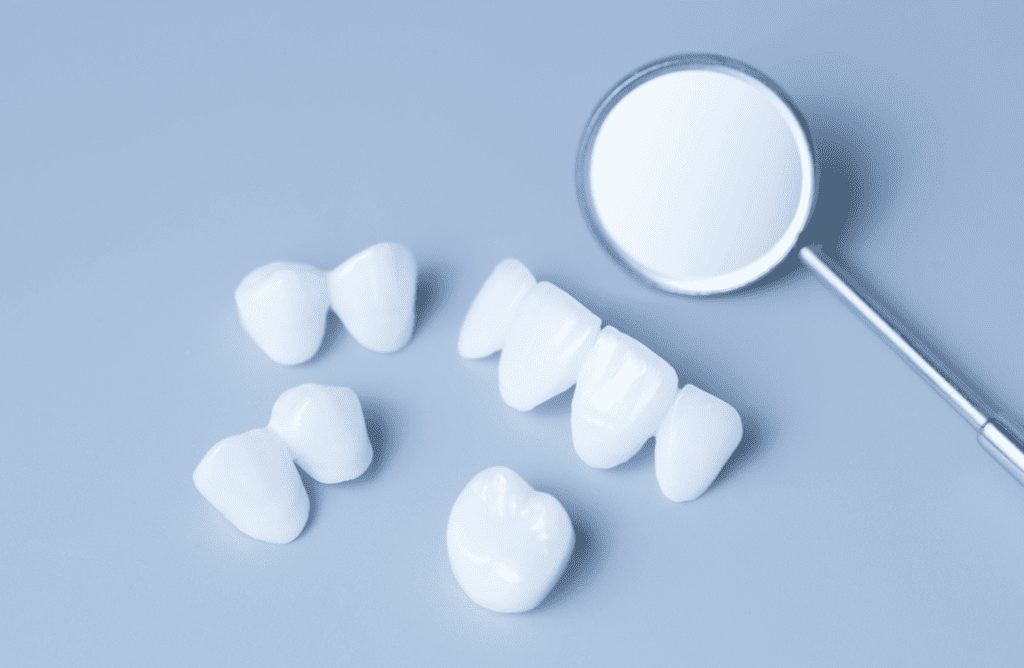 Comparing Treatments: Porcelain Veneers and Lumineers
Before cosmetic treatment, we always make sure that our patients do not have any outstanding oral health concerns. Some patients may need periodontal treatment or root canal treatment prior to their cosmetic procedure.
Dental veneers provide a minimally invasive procedure and are about 0.5 mm wide. We will prepare the teeth by etching a portion of the tooth enamel to create a smooth surface for the veneers. Patients need to be committed to replacing their veneers after many years, as this does alter the enamel. Porcelain veneers require two office appointments. We take scans of the teeth at the first appointment and then bond the veneers to the teeth at the second appointment.
Unlike veneers, lumineers do not require any tooth preparation. This means that lumineers are easily reversible. Patients can receive lumineers in one office appointment. Lumineers are also much thinner at 0.3 mm wide. However, lumineers can be more costly because they are thinner and made of Cerinate porcelain.
The Uses of Porcelain Veneers
Porcelain veneers are one of the most versatile cosmetic dentistry solutions. The lab customizes each one so that the veneer fits in perfectly with the rest of your smile. Usually, professional teeth whitening treats discolored teeth. But deeper stains and discoloration from trauma don't respond to the typical solutions. A porcelain veneer can be color-matched to whatever shade of white you desire. It covers the front and sides of a tooth to cover the discoloration.
As we age, life takes its toll on our teeth. They wear down, chip, and break. Veneers can eliminate years from your smile by treating these chips and dings, giving the appearance of a smooth, even smile. If you have crooked teeth that aren't negatively impacting your oral health, veneers can treat these as well. Misshapen and unappealing teeth are able to benefit from veneers.
Gaps in teeth are another thing that benefits from veneers. Because they're all custom, they're crafted to look natural while being able to subtly cover the gaps in your smile.
Getting Porcelain Veneers
Before any procedure, we'll have a cosmetic consultation. We'll talk to you about your cosmetic goals and budget. The dentist performs a thorough oral exam to assess your oral health. All of this helps us ensure that porcelain veneers are the best cosmetic solution for your unique needs. It's important to know that porcelain veneers are a permanent restoration. Once you have porcelain veneers, those teeth will always need a restoration on them.
Once you're ready to get porcelain veneers, the first appointment involves preparing the teeth for veneers. We take impressions of the prepared teeth to be sent to the lab to custom-make your restoration. A temporary restoration may be given to you to wear until the permanent one is ready.
You'll come into our office when they're ready for the permanent restoration. We fit the porcelain veneers to the prepared teeth, making any small adjustments necessary. When you're satisfied, we cement the veneers to your teeth.
Porcelain Veneer FAQs
Do you have more questions about veneers? Learn more about this cosmetic treatment with answers to these frequently asked questions:
Are porcelain veneers permanent?
Porcelain veneers can last patients up to 30 years, while lumineers can last 20 years. A good oral hygiene routine and routine professional dental care contribute to the longevity and health of dental veneers.
Am I a candidate for dental veneers?
Schedule a dental consultation with our team and they will determine if you are a good candidate for dental veneers. Our team will recommend veneers and other cosmetic treatments for patients who are in good oral health. However, they can also address any general dental problems before providing veneers. Our dentists will also take your personal budget, current concerns, and cosmetic goals for treatment into account before making any recommendations.
What are the benefits of veneers?
There are a variety of advantages to treatment with porcelain veneers. Because veneers are made of a thin porcelain ceramic material, they look and feel natural. They are also durable and long-lasting because of their material. Porcelain veneers, as well as lumineers, are thin and do not look or feel bulky.
Schedule a Dental Appointment
Create a brighter and straighter smile with porcelain veneers or lumineers. Call Brookwood Dental Associates today at 267-651-7247. You may also request a dental consultation with our dentists on our website. Let us know if you have any further questions, and we can help!