Are you missing one or more permanent teeth? Do you have sensitive and often irritated gums? Recover your oral health with our restorative dentistry solutions in Lansdale, PA. The dental professionals at Brookwood Dental Associates are passionate about helping patients with multiple complex problems, including gum disease, decay, and missing teeth.
Restorative dental solutions may be used to solve problems caused by neglect, infection, or injury. They can also fill the gaps in your smile and create a more balanced bite. Restorative dentistry procedures are a part of the dental services solutions we offer to the people of Lansdale, PA.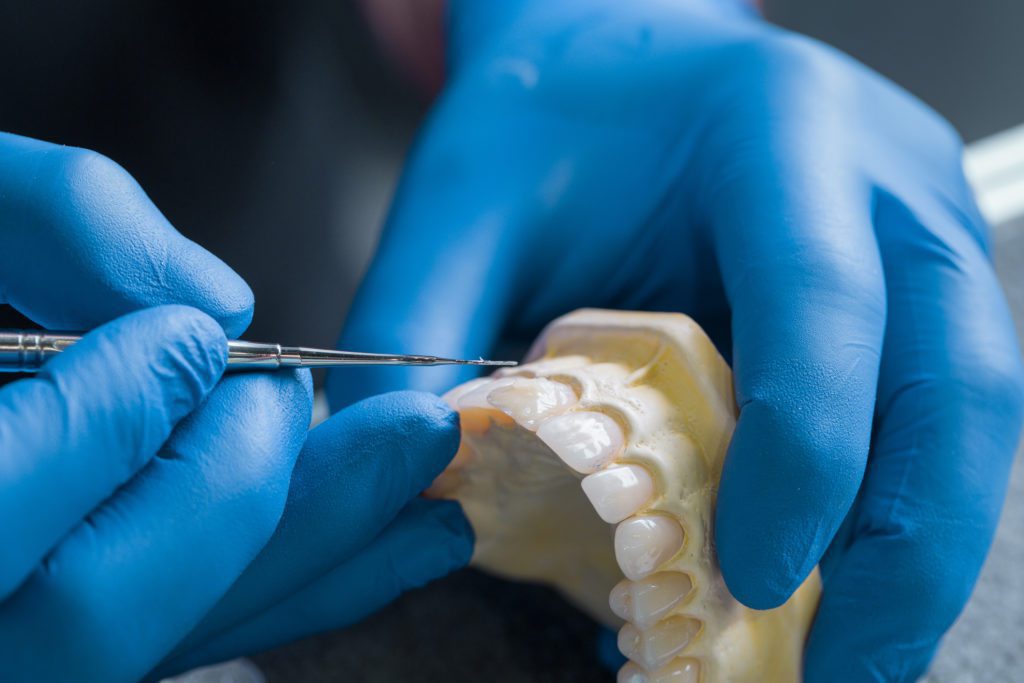 Restorative Dental Care
Our restorative dental treatments help revitalize patients' smiles and improve the health of their teeth and gums. Discover more about these solutions and find links to these treatments below:
Dental Bridge
A dental bridge is a prosthetic that is used to replace multiple missing teeth. Patients with rows of missing teeth can receive a fixed bridge. Traditional bridges are secured by natural adjacent teeth that are covered by dental crowns. Patients can also secure their dental bridge with implants for a longer-lasting restoration.
Dental Crown
A tooth crown is a porcelain ceramic cap that can cover a natural tooth or dental implant. Crowns provide strength to worn and weakened teeth. They also cap off dental implants so they may blend in with the shape and shade of natural teeth.
Dental Implants
Dental implants are titanium posts that are surgically implanted into the jaw bone. Implants provide a stable foundation for dental crowns, dental bridges, and dentures. Because they are made of durable titanium and fuse with the jaw bone, implants are a permanent dental restoration.
Dentures and Partials
Our dental office provides full and partial dentures to restore rows or arches of lost teeth. We will often recommend implant-secured dentures over removable dentures because they make it easier for patients to eat and speak. Traditional removable dentures can slip and do not support the health of the soft tissue of the mouth.
Gum Disease Treatment
Periodontitis, or gum disease, is a common yet highly damaging oral health issue. It begins as gingivitis, or gum inflammation, but can quickly develop into gum disease. We can treat gum inflammation and disease with scaling and root planing, dental lasers, antibacterial treatment, and surgery.
TMJ Treatment
Temporomandibular joint disorders are caused by pressure or injury to the joints that connect the skull to the jawbone. Patients who develop this dental problem often clench and grind their teeth or suffer from jaw and facial pain. Physical therapy, custom nightguards, and orthodontic treatments may be used to create a comfortable and balanced smile.
Restorative Dental FAQs
Read answers to many questions that patients have about restorative dental solutions:
Can I prevent gum disease?
Yes, brushing and flossing twice daily and scheduling routine dental appointments can help prevent gingivitis and periodontitis. If your gums bleed when you clean your teeth, continuing your oral hygiene can prevent bleeding gums from developing into more serious symptoms.
What happens if I do not address my TMJ disorder?
Patients who do not seek professional treatment for their TMJ disorder may find increased TMJ symptoms. Chronic headaches, tooth wear, and jaw pain are some of the most common problems that develop as a result of a TMJ disorder. These symptoms can worsen and make eating and speaking uncomfortable. It is important to receive treatment for TMJ disorders because they impact everyday function and comfort.
Are dental implants permanent?
Yes, unlike other cosmetic or restorative treatments, dental implants become a permanent part of our patient's smiles. This is because implants fuse to the jaw bone. Dental implants replace missing teeth and create a new foundation for a dental crown, dental bridge, or denture.
Restore Your Smile Today
Do you want to address your missing teeth or gum inflammation? Are you looking for dental solutions to improve the overall health of your smile? Request a dental consultation with our team on our website. You may also contact our office for an appointment at 267-651-7247. We treat patients from Lansdale and Chalfont, PA.